Sark Island is a small, inhabited island located in the Channel Islands just off the shore of France and south of England. These charming islands offer much in the way of scenic cliffside beaches, incredible seafood cuisine, historical sites, tours, and so much more. Planning a holiday on Sark can take you a world away as you step through time to a simpler, more peaceful life.
Sark Island is a popular destination for many, with thousands of people visiting the island every year. It's easy to understand why with the sweeping views of the English Channel, an abundance of wildlife, charming countryside, and incredible rock formations, and that's all without mentioning the locals and shops. If you're wondering if Sark Island is worth a visit, read on to learn everything you need to know to help you decide to plan a holiday to Sark Island.
Where is the Island of Sark Located?
Locating Sark on a map, you may have to zoom in a lot to spot the smallest of the Channel Islands. Sark Island is located in the English Channel just off the coast of Normandy, France, and 80 miles south of England. It's a small island at 3.5 miles long and 1.5 miles wide with a square mileage of barely over 2 miles. It's nestled in the Channel Islands among the four main islands, with Guernsey only 10 miles to the west. The island of Herm is between Guernsey and Sark, only 7 miles away. The largest of the Channel Islands, Jersey, is an 18-mile ferry ride away.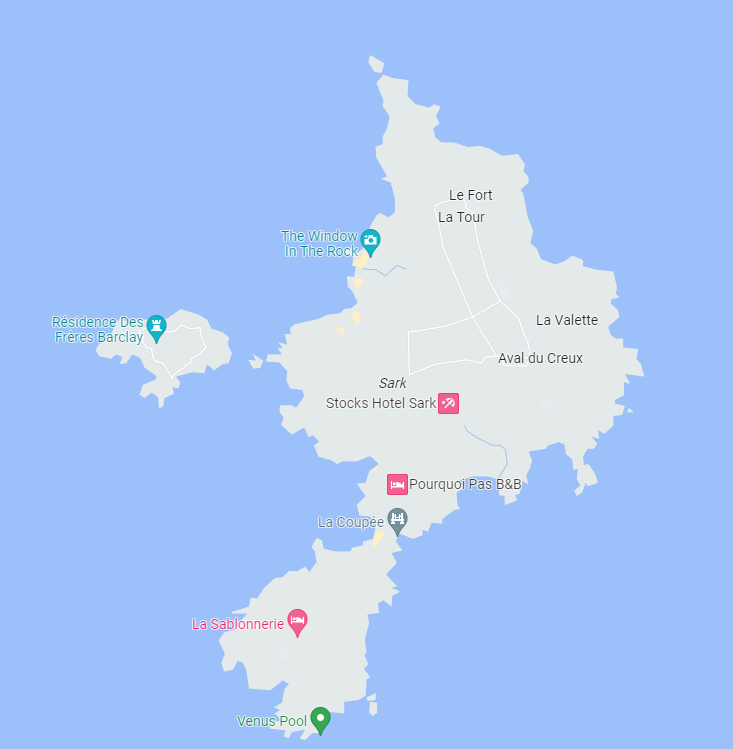 What is Sark Island Like?
is a beautiful island featuring a rugged coastline, coastal bays and inlets to explore, and plenty of trails to explore the island on foot or by a nice bicycle ride. There are no cars on the island, so you're free to traverse the roads without being disturbed by cars. With the absence of cars, island life is serene. With no noises, no busy intersections, and a lack of street lights, the experience and ambiance of the island are generally peaceful. It's truly an unforgettable experience to unplug and unwind for the perfect holiday.
Is There Anything Fun to Do on Sark?
While Sark may be small, it has a lot of heart, charm, and character and an abundance of activities for people who love the outdoors, eating great food, and enjoying joining in on the local community activities. From the moment you arrive, you are greeted by a trip through a tunnel, and you have the option to take a ride on a carriage up the hill with your luggage on a horse-drawn or tractor-drawn carriage.
After you arrive on the hill, you enter the Avenue, where there are many shops, restaurants, and the local post office, bank, and more. While there is plenty to do on Sark, it's never overwhelming, adding to the allure and charm of the island. If you're only taking a day trip, you have a few short hours to explore the island, which can give you plenty of time to take in the sights.
On the Avenue, there are a couple of shops available for you to bike hire and ride bikes along the trails. You can even get a guided tour of the island on a bicycle and enjoy listening to the history as you explore by one of the local residents.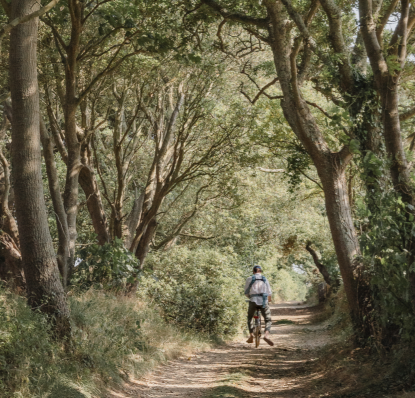 Take a trip by bike or foot over to little Sark by the breathtaking La Coupee, a stretch of pathway that connects Little Sark to Big Sark. The pathway features incredible views along a path with cliffs of 300 feet on both sides. On Little Sark, you can visit the Venus pool, a rock pool that you can take a quick dip in during low tide.
You can also explore the La Sablonnerie, which features accommodations and cute cottages to stay in, along with a popular local restaurant and tea garden.
Take a tour of La Seigneurie and the surrounding gardens. La Seigneurie offers a tranquil experience as well as a glimpse through time at the history of Sark as you explore the gardens. There are tours of the grounds available as well.
History of Sark Island
You can learn about the history of Sark, including the troubling times during the German occupation during World War II, at the Sark Museum. You can learn about life on the island and its storied history throughout the hundreds of years of occupation. While you're learning about history, you can stop by the smallest prison in the world with just two cells.
If you want to get to know the locals, you can spend time shopping and dining in the Avenue, where many of the local's favorite spots to eat are located. Dine on food prepared using the freshest, locally sourced ingredients, along with fresh seafood caught straight from the sea. Shop at many shops on the island featuring local art, wares, and crafts, along with many souvenirs to remember your trip to Sark Island.
How to Get to Sark
Sark Island does not have an airport and can only be accessed by ferry or boat. You can take a ferry from nearby Guernsey to Sark on the Isle of Sark Shipping Company's ferry service. The ferry runs year-round on a schedule that transports passengers and cargo between the islands. The trip is a short 55-minute trip where you can sit back and relax and enjoy the views.
If you want to travel to Sark from Jersey, the ferry service operated by Manche Iles Express only runs from April to September on a limited schedule. The ferry from Jersey to Sark is a little long, just over an hour and ten minutes.
Is Sark Island Worth a Visit?
Visiting Sark Island is an absolute must if you're planning a holiday to the Channel Islands or if you're looking for a peaceful getaway from your busy everyday life. You can step away and truly unplug once you step off that ferry and enjoy the charming, quaint lifestyle that Sark offers its residents and visitors every day.