Spending time on Sark, whether you're staying overnight or visiting for a nice day trip, offers so many adventures to have on this quaint little island. Sark is a picturesque island with a storied history of turmoil leading to peace and wonderful steads, cottages, and farmhouses dating back hundreds of years.
Sark is one of the few places in the world where cars are banned. You can only get around by tractor or horse-drawn carriages. Alternatively, you can walk a few miles around the island, or you can explore the island on a bicycle. Getting to Sark requires travel by ferry, and not all ferry options offer the ability to bring along your own bike. You can opt for one of the local Sark bike hire businesses to pick up a bicycle for a day of exploration around the island.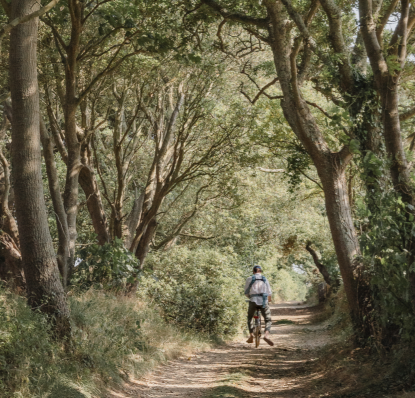 Sark Bike Hire
Sark is a car-free island, which makes it the perfect place to explore on a bicycle, free from car traffic and the dangers cycling around cars can bring. You can get from one end of the island to the other or spend time leisurely riding along the coast easily on a bike. On the island, there are several businesses that offer bike hire on Sark, providing an ample selection of bikes and accessories to fit your needs.
Address: A to B Cycles, Sark, GY10 1SE
Phone: +44 01481 832844
One of the premier bike hire locations on Sark, with a wide range of adult bicycles and children's bikes to choose from. You can pick up a tagalong for your bike for an enjoyable experience for two. If you're bringing small children along, you can rent a child trailer to easily tow them along as you explore the island. It's recommended that you book in advance to hold a bike for you and your family before heading to the island. 
Address: The Avenue, Sark, GY10 1SG
Phone: +44 1481 832102
Avenue Cycle is available for renting bicycles of all styles for both adults and children. You can also acquire any accessories or safety gear that you might need, including trailers, child seats, and more. Avenue Cycle provides an easy way to explore Sark from end to end at your leisure. You can book in advance on the website or pop in when you get to the island.
Bam's Bike
Address: Harbour Hill, Sark, GY10 1SB
Phone: +44 07781 112775
At Bam's Bikes, you get the promise of new, high-quality electric bicycles and superb customer service all year long. When you book with Bam's Bikes, you get a complimentary helmet, lock, seat cushions and unlimited battery recharges for electric bicycles. There is only one bike selection to make the decision easy on you, and the charge lasts up to 70 miles for an easy way to explore the island. If you have small kids, an electric bike may not be ideal, but it's great for adults, older children, and teens.
Sark Cycling Routes and Sights
There are a few cycling routes on the island you can explore. Many of these routes are also in used by tractors and carriages. There are roads all across the island and around the coasts offering spectacular bay views and a chance to check out the scenery and wildlife throughout the island.
As you cycle around the island, you'll want to be aware of your surroundings and the paths you are on. Tractors and carriages share the road, and they do have the right of way. There are a few paths on the island that are not meant for bicycles to travel on, especially on the clifftop paths. Any path you take, you'll be able to see some of the most beautiful scenery.
La Coupee 
One of the most popular sites on Sark that is a must-see when you opt in for bike hire is the La Coupee isthmus that connects the main island to Little Sark. The narrow path has a 330ft drop on each side, and when you arrive, you can lock up your bike and explore the views.
The Gouliot Caves
On the west coast of Sark, The Gouliot Caves are under the Gouliot headland. The caves are known as a Ramsar site. A Ramsar site is an internationally important wetland under the Ramsar Convention on Wetlands for containing rare or unique wetland types and their role in conserving biological diversity. The caves are home to sponges, sea anemones, and more that are protected. You can use the path carefully that leads down to the caves, which are only accessible at low tides, and it's recommended that you bring an expert with you. 
La Grand Greve 
The largest of the beaches on Sark and the most popular, this destination is a great place to take an exhilarating bike ride to relax or swim on the beach. You'll want to park your bike at the top of the bay and take the steep path down from the clifftop to reach the beach, which is best visited at low tide.
Take a Guided Bike Tour
Adventure Sark offers a guided bicycle tour around the island on a half-day journey across the 3 miles-long and 1.5-mile-wide islands. There are 14 miles of coastline to explore, and the island and the tour offer a unique experience from the moment you step off the ferry.
With an advance ticket, you'll be guided through the tunnel to the tractor-trailer to help you get to the top of Harbour Hill. The staff at Adventure Sark will meet you to provide you with bikes, any needed safety gear, and complimentary water bottles before you set off on an independent tour. Your tour guide, a local expert on Sark, will take you to some of the best sites and tell you some incredible stories that go along with them.