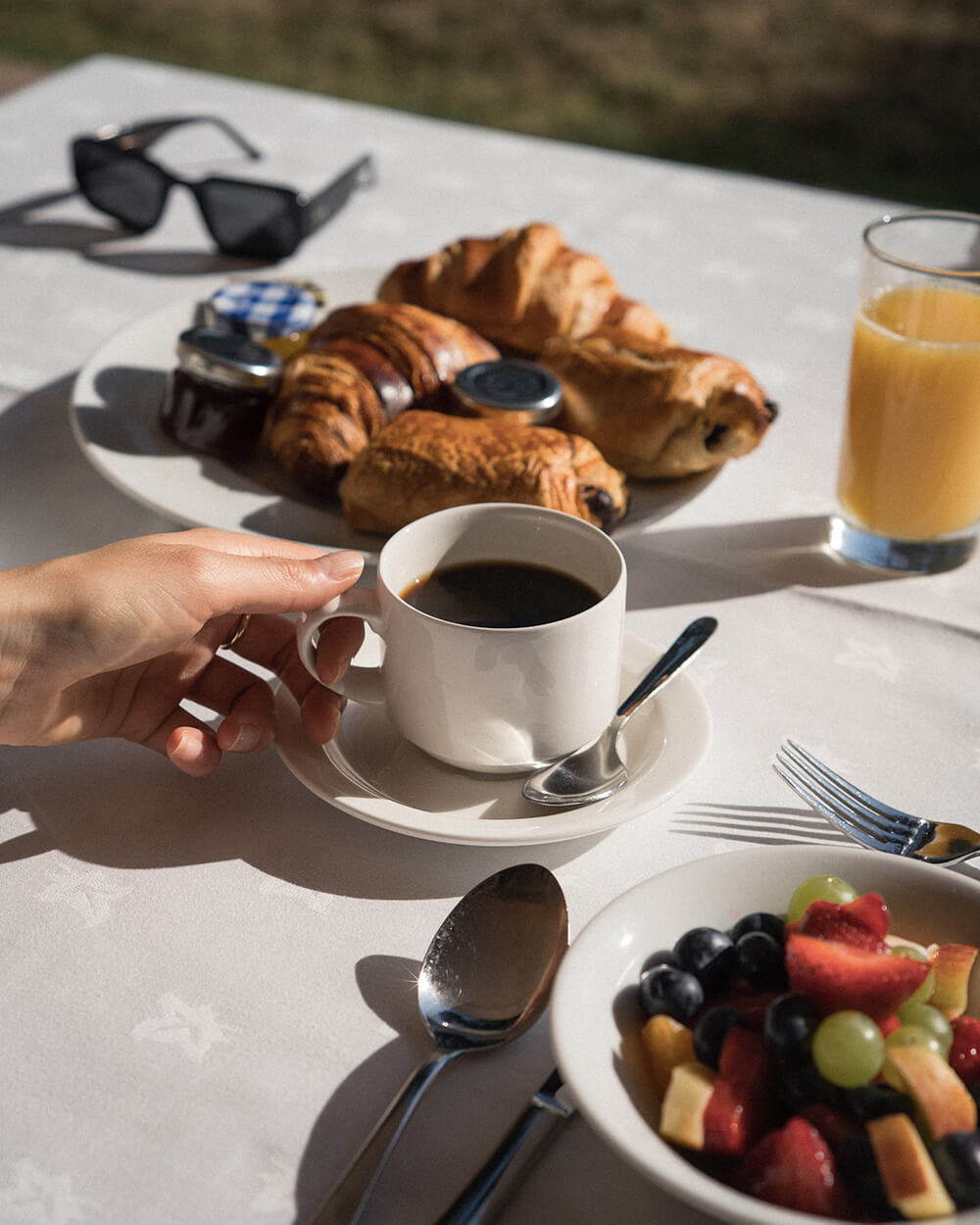 On any vacation anywhere, the highlight of the holiday is when you're able to try out some of the best cuisines in the area. From local favourites to upscale dining experiences, Sark has it all. The island is well known for using fresh, locally sourced ingredients in many of the restaurants. 
Chefs throughout the island offer rotating seasonal menus curating meals from what's in season and available. This list of restaurants includes some of the best places to dine when you visit the island of Sark. You'll find many of the restaurants are a part of the hotel and accommodations throughout the island. 
Address: Rue de la Seigneurie, Sark, GY10 1SF
Phone: +44 (0) 1481 832209
Named after Dame Sibyl Hathaway, sits in a beautifully renovated 16th-century dairy and is located within La Seigneurie Gardens. The menu features fresh, locally caught seafood, including crab and lobster, right off the coast of Sark. Diners can enjoy the sunny terrace or, on cooler days, the cozy wood burner for indoors as they enjoy an incredible menu of fresh and local ingredients. Vegetables are sourced from their own vegetable garden along with many local island producers, with the menu changing daily according to what's available each day and thanks to the creativity of the chef. 
Address: Little Sark, Guernsey GY10 1SD
Phone: +44 (0) 1481 832 061
Located in La Sablonnerie Hotel, this restaurant is known as one of the finest on Sark Island. The hotel, set in a 400-year-old longhouse, is surrounded by beautiful gardens where people can dine al fresco. The stunning views from within this paradise as you enjoy local favorites such as the lobster thermidor, the spring lamb and veal, or one of the many vegetarian dishes. The vegetables are curated from the gardens located on the hotel grounds, and the chefs create a menu using locally sourced ingredients creating an authentic experience. The food, the views, and the surrounding gardens add to the ambiance that has created this award-winning experience for locals and tourists alike. Be sure to call or email for a reservation. 
Address: CJJW+RJC, Guernsey GY9 0SD
Phone: +44 1481 832302
The quaint family-run business provides a menu using the freshest ingredients as you enjoy the open gardens. The diverse and eclectic menu features cuisine that anyone can enjoy, from incredible Indian food to homemade pasta and, of course, local seafood options. While there is a varied menu, the chef curates' incredible seasonal specials to add to the vast selection of options for diners. To dine here, make your reservations in advance by calling or sending an email located on the website.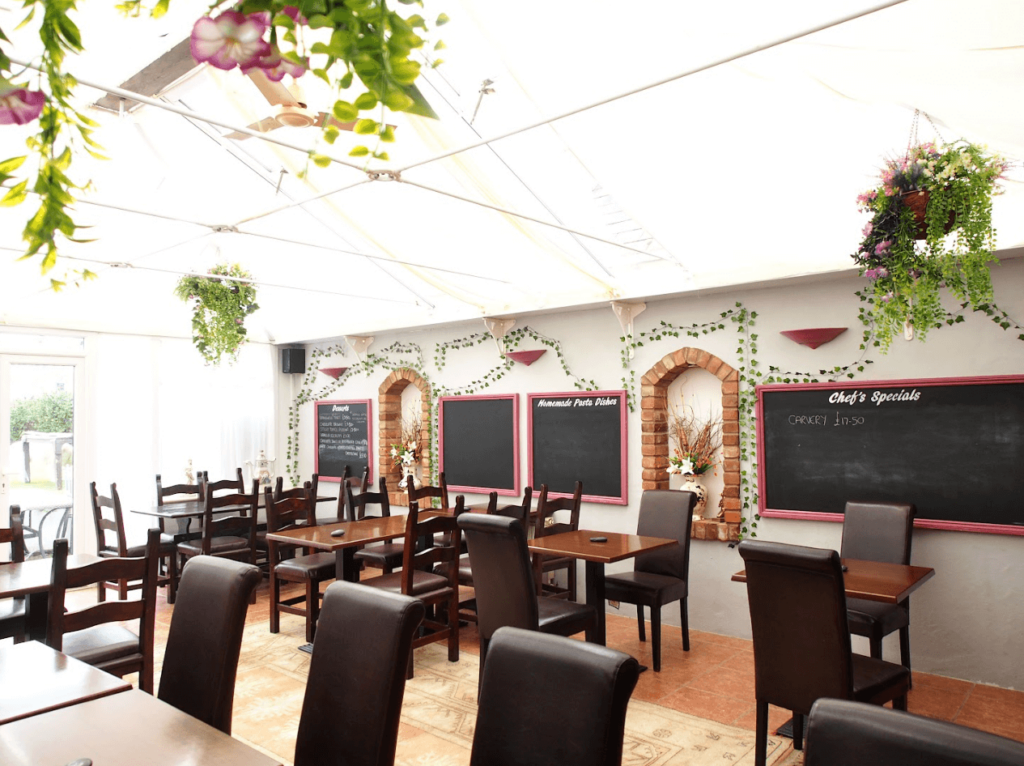 Fleur Du Jardin
Address: Guernsey, Mill Ln, Sark, Guernsey GY10
Phone: +44 1481 832255
At Fleur Du Jardin, you can enjoy fresh seafood al fresco in a beautiful sunny garden with a laid-back atmosphere. The indoor dining provides a cozy, warm aesthetic with a wood-burning fireplace that gives the feel of dining in a cottage in the country. The beautiful, peaceful surroundings make for a serene dining experience. You can enjoy light snacks and meals with a great selection of gluten-free and vegetarian options. It can be busy at times, so you'll want to make a reservation before you go.
Address: Rue de La Seigneurie, Guernsey GY10 1SF
Phone: +44 1481 832666
Located in the center of the island, The Captains Bar and Bon Marin Café offers a fun menu with family favorites. The restaurant is only open for breakfast during the busy season. Service begins with morning coffee and through dinner year-round. You can choose from their diverse menu that features cheeseburgers, pizzas, and local seafood favorites, including battered cod fish and chips. The food is created from locally sourced ingredients. Reservations are a must at the café and can be made in advance on their website. The Captain's Bars features a fun nautical theme where you can enjoy wine, beer, and liquor in a relaxed atmosphere with an outdoor terrace to enjoy a nice beverage under the sun. 
Address: Guernsey, Dixcart Ln, Valley GY10 1SD
Phone: +44 1481 832001
Stocks serve up elegance and charm and are open most of the year. Enjoy a menu with classic homemade bread, smoked fish and meats, homemade wines, and more. Stocks restaurant features quality fresh produce sourced from local suppliers and partners with fishermen and farmers across the island. But only after the fresh produce is pulled from the fresh garden to produce great food for locals and visitors to enjoy. Throughout the menu, you can choose creative meals and curated items designed to deliver a taste of Sark.  
Nova's Bistro
Address: CJJW+M3J, Guernsey GY9 0SD
Phone: +44 1481 832580
Nova's Bistro, formally known as AJs, is located on the Avenue in the heart of Sark and is open for coffee, breakfast, lunch, and dinner. Enjoy incredible comfort foods at Nova's Bistro, including fish and chips, crab sandwiches, delightful burgers, and much more. With a rotating menu and fresh seasonal favorites, Nova's Bistro is sure to have something that everyone will enjoy. Finish off your meal with home-baked rotating desserts before you head back to your hotel. 
Address: CJJW+P42, The Ave, Guernsey GY9 0SD
Phone: +44 1481 832638
A unique eatery located on the Avenue in Sark is an Alice in Wonderland-themed restaurant. The décor throughout features artwork, utensils, and table settings familiar to fans, never missing a beat on the theme with great care and attention to detail. The menu is crafted to delight and invoke curiosity. Every menu item is delivered with a unique presentation to add to the restaurant's ambiance and character. The restaurant is open for breakfast, lunch, and dinner year-round, and no reservations are required.