If you've ever thought about packing up and moving to an island far away from the troubles of the world, you are not alone. Many people have dreamed of the day when they can escape permanently to a simpler kind of life. Moving to an island can provide you with a sense of peace and serenity, especially on one of the Channel Islands, where life moves at a gentler pace.
Sark Island is just off the coast of France and 80 miles south of England, nestled in between the four main Channel Islands. The little island of Sark stretches around 3.5 miles long and at its widest measures at 1.5 miles wide. It's one of the only places in the world to ban cars, has no streetlights, and has on a few hundred residents making for a quiet and peaceful visit. Not to mention it's one of the world's first Dark Sky Islands, where the absence of light pollution creates a breath-taking night sky full of stars after the sun sets.
Moving to Sark Island, only recently, could be done by leasing the land from landowners of the tenements created over 400 years ago. Thanks to a number of changes in property law and the push of famed German entrepreneur Swen Lorenz, residents pushing to bring more people to the island, your dream of island life could be realized much easier than you think. Even if you just love to browse properties, this article dives into what you can purchase on the island and the kind of life you can hope to enjoy as you spend your days on the Island of Sark.
Types of Property on Sark
Moving to Sark isn't just about finding a great home or a piece of land that suits your needs. It can be about starting a business aimed towards serving the residents or the thousands of tourists that make the trip to Sark every year. Life on Sark can be simple for business owners, entrepreneurs, or those looking for a break from the busy world. A year-round ferry transports passengers and cargo to and from Guernsey, run by the Isle of Sark Shipping Company. Smaller charters bring people to the island from nearby Jersey and the shores of Normandy, but there is no airport on the island.
There are businesses, land, farms, homesteads, and more that become available on the island of Sark for people looking to purchase. With the recent drop in the population, the housing market on Sark has become the most affordable of all the Channel Islands. Sark is also desirable to live in because of the lower taxes, the stability of the small economy, and the great community the island has built.
Can You Buy Property on Sark?
There were changes to Sark's property law that allowed some people to purchase property on Sark. The property laws in Sark were in place for over 400 years prior and only allowed residents the option to lease land from landowners based on the tenements created in the 16th century. The tenements had played an important role in the governing of the island until Sark changed its governing structure to a democracy from a feudal state.
Now residents of the island and neighbouring countries can purchase property and take out mortgages on the land as long as they qualify. There are two types of property markets on Sark to consider: local market and open market. Local market properties are open to people who were born on Sark, lived on the island for at least 15 years, or have close relatives that are qualified. Open market properties are open to anyone regardless of residency and relation.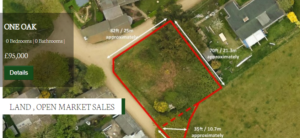 People also have the ability to potentially build new homes or businesses that can bring in a new era and build up the population of the small island. Any new dwellings that people who purchase land want to build need to get special permission from the Development Control Committee before they begin construction.
Because the land has been owned by generations of people who had settled before, land does not often become available, and some of the lands is still purchased through leasing from the landowners. The changes in the law have allowed people who have leased the land for generations to finally purchase freehold land once it becomes available. It also opens up the opportunity for people to expand their existing land or split up and sell parcels with surrounding owners.
If you want to move to Sark, there are a few residency restrictions to understand before you pick up and move. You need to be a British or Irish resident. You can move to Sark at any time, but purchasing a property, you will have to find one available on the open market. Renting a place can be a challenge with the limited amount of properties available. If you have EU, EEA, or Swiss national status, you can also have the opportunity to move to Sark.
There are several visas available that allow you to move from anywhere in the world to Sark, including a work permit, entrepreneur visa, freelance visa, and more. There is paperwork to fill out, but once you're approved, you're free to look for property and settle in.
Sark is a welcoming community of generations of families who have lived on the islands for hundreds of years and newer residents who have grown to love the charm, history, and beauty the island offers. Many types of properties become available with the change in the property law allowing more people to afford the island life of their dreams.